The PGOLID Lake Coordinator monitors the PGOLID Lakes and stream inlets and outlets to track water quality.  These results are compiled in to the Lake Management Plan every year.
Lake Monitoring
The Pelican Group of Lakes is composed of Pelican, Little Pelican, Bass and Fish Lake.  The lake monitoring sites are marked on the map below. At these sites, Secchi disk readings and dissolved oxygen and temperature profiles are taken and water samples are collected for Chlorophyll a, and Total Phosphorous analysis monthly.  These results show that the lakes are mesotrophic, with good clarity (12 feet average) and rare algae blooms in late summer.  For a summary of the 2020 lakes monitoring program, Click Here.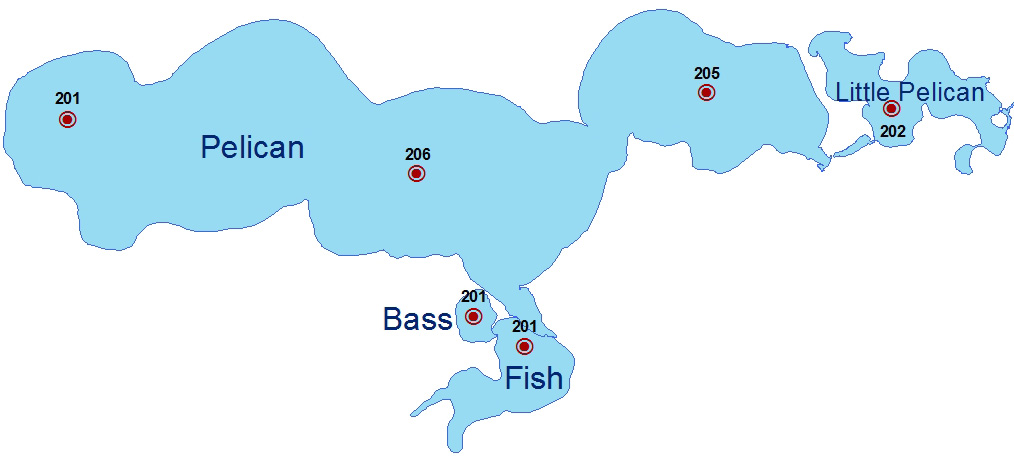 Stream Monitoring
The PGOLID Lakes have three main stream inlets (Pelican River, Spring Creek, Bob Creek) and one stream outlet (Pelican River), which are monitored at their pour point to the lake by the PGOLID Lake Coordinator.  The map below shows the minor watersheds that drain to the lake.  Stream monitoring has shown that the Pelican River is the largest contributor of water and nutrients to the PGOLID Lakes (70%). The Pelican River exits the Lakes at the southern end of Fish Lake and flows into Lake Lizzie. .