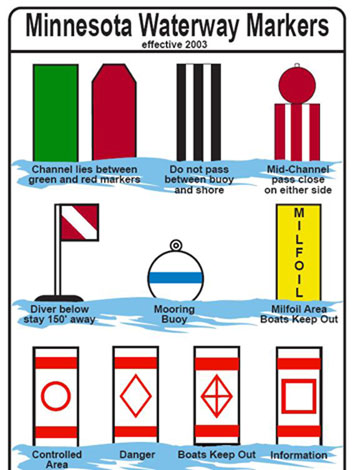 Waterway markers found on the Pelican group of Lakes are shown on the map below. The area near the public access at Stroms Bridge is enlarged for easier viewing. Remember that not every hazard, swimming area, or controlled area has a waterway marker. Caution should be used at all times, even when far from waterway markers.
All-green and all-red companion buoys indicate that the boating channel is between them. In flowing water, the red buoy is on the right side of the channel when facing upstream.
In 2018, solar lights were added to the tops of some buoys for night time navigation.
Boats Keep Out: A white buoy or sign with an orange diamond and cross means that boats must keep out of the area. Black lettering on the buoy or sign gives the reason for the restriction, for example, SWIM AREA.
Danger: A white buoy or sign with an orange diamond warns boaters of danger – rocks, dams, rapids, etc. The source of danger will also be lettered in black. In winter, ice hazards may also be identified with this marker in the form of a sign.
Controlled Area: A white buoy or sign with an orange circle and black lettering indicates controlled or restricted areas on the water. The most common restriction is slow, no wake speed. Slow, no wake means operating your boat at the slowest possible speed necessary to maintain steerage, but in no case greater than five miles-per-hour.