PGOLID does a lot of work to prevent the spread of invasive species into and out of the lakes.  We encourage our residents to follow the MN Invasive Species Laws, MN DNR.
Click here to Notify PGOLID: Have concerns? See something suspicious? Or call 218-846-1465
Top Three Threats to the Pelican Lakes:
Starry Stonewort A rooted algae that spreads by starry shaped white bulbils. Can fill the water column disrupting boating, preventing spawning, and eliminating native plants.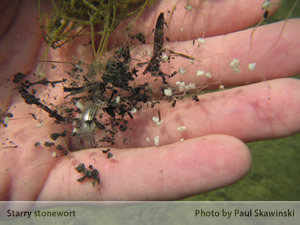 Water Chestnut    Floating plant with aspen type leaves and small white flowers. Can cover the water surface.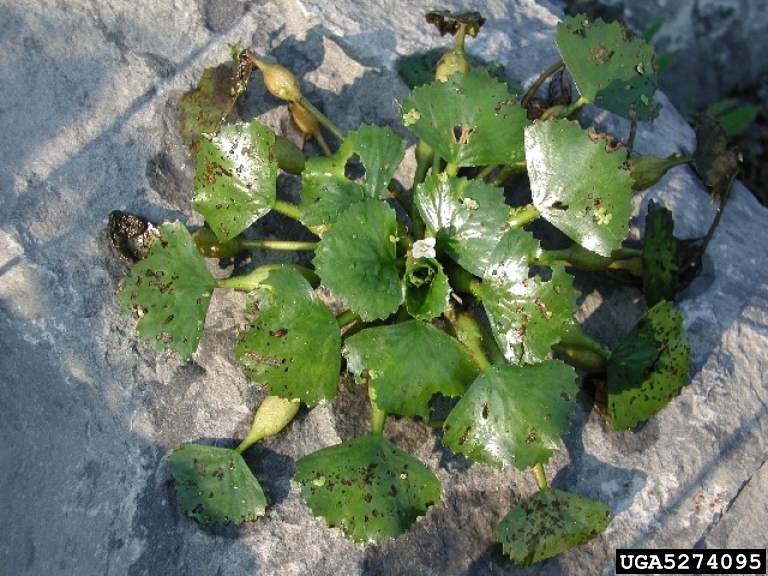 Yellow Floating Heart   Similar to Yellow Water Lily, this plant has heart shaped leaves up to 4 inches long and yellow flowers. Native Yellow Water Lily has much larger leaves. This plant can clog shoreline areas with growth.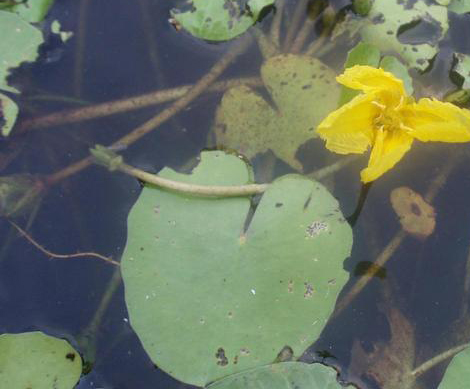 Established Invaders:
Zebra mussels
Zebra mussels were found in Pelican Lake in 2009. PGOLID monitors the distribution and density of both Zebra mussel adults and their microscopic larvae called veligers.  See the links below for more information.
PGOLID Veliger Report 2012-2018
Zebra Mussel Fact Sheet, MN DNR
Curly-leaf pondweed
PGOLID started a Curly-leaf pondweed (CLP) treatment program in 2005. This project has shown a great reduction in CLP and is an ongoing project.  A total of 28.5 acres were treated in Bass, Pelican and Little Pelican Lakes in 2017.  In 2019 and 2020 very little CLP was found in the Pelican Group of Lakes.  See the links below for more information.
Curly-leaf pondweed Fact Sheet, MN DNR
Flowering Rush
Flowering Rush is a problem in Detroit, Sallie and Melissa Lakes, which are upstream from Pelican Lake.  Each summer, PGOLID hand-removes the Flowering rush in the Pelican River between Buck's Mill and Little Pelican Lake to prevent it from spreading into the Pelican Lakes.  This prevention program has been successful in stopping the downstream spread.